Nouvelle technologie que j'ai découvert personnellement en 2010, le Car Mapping Projection est basé sur un principe simple : une voiture est "découpée" digitalement afin d'avoir une structure 3D, puis une vidéo est projectée sur la voiture afin d'avoir des effets 3D graphiques.
=> Exemple du concept visuel à voir ici sur un bâtiment : l'Hôtel de Ville de Lyon pour la fête des lumières
La voiture est très souvent repeinte entièrement en blanc, bachée ou d'une couleur très neutre pour ne pas interférer avec la vidéo.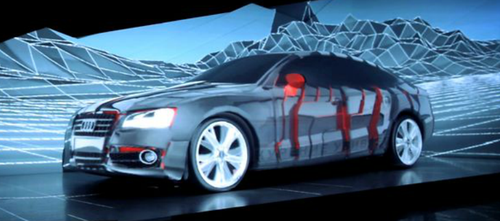 Quelques exemples de Car Mapping Projection
Toyota Auris Hybrid : 'Get Your Energy Back'
The Infiniti Journey of Inspiration 2009 by Klip Collective
Hyundai Accent 3D projection mapping
>> Plus d'exemples sur "10 Amazing Projection Mapping Examples on Cars"
Le Car Mapping Projection vu du côté marketing & publicité

Le Mapping Projection, très souvent utilisé jusque là pour des spectacles Sons&Lumières sur bâtiments se développe de plus en plus pour des campagnes marketing mais évolue également sur d'autres objets, tels que les voitures justement.
Ce procédé permet des effets visuels plus spectaculaires et d'accentuer les lignes de la voiture, mais demande également un très long travail bien évidemment sur la réalisation de la vidéo et des effets visuels mais également sur la "digitalisation" de la voiture.
Des agences dédiées à ce genre de création s'ouvrent de plus en plus, telles que RadugaDesign, un studio vidéo russe qui a déjà signé les CMP de Audi ou Peugeot !
Souvent tourné en studio, certains CMP ont poussé le spectacle jusque dans la rue, notamment pour Hyundaï qui a créé l'évènement avec son "Accent" fixée à la verticale dans les rues coréennes. Une réalisation absolument magnifique et très bluffante !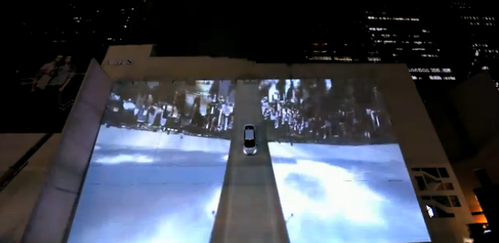 Bref, une nouvelle "technologie" au service du marketing et de l'évènementiel des marques mais également du buzz vidéo sur Internet qui, excepté Lamborghini, n'a touché pour l'instant que des marques automobiles grand public. Le remplaçant New Age du LipDub en somme ;-)